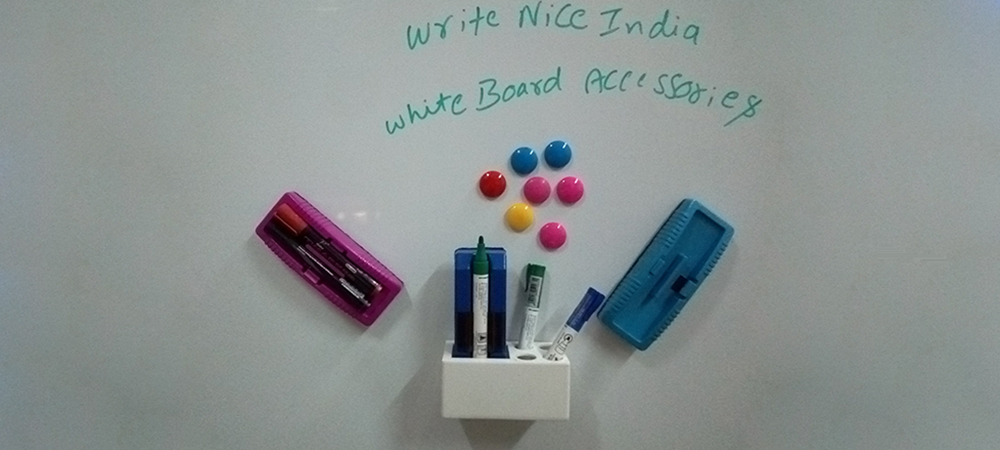 Write Nice India
( About us )
We, Write Nice India have earned widespread appreciation as a Manufacturer and Supplier of Writing Board, Glass Marker Board, White Marker Board, Magnetic Writing Board, White Board, White Writing Board & Display Board. These boards play a significant role in qualitative and group education and it is easier to make a large class understand a topic on the board. Projection Screen that we offer is compatible with computer system and other technologies so that a large group of children can access the files of single computer on big screen. Our Writing Board, Glass Marker Board, Stainless steel Dustbin, Welcome Board, Flip Chart Board, Magnetic Board, Magnetic Writing Board etc., are used in offices as well as for meetings and training sessions. We have professionals to design and develop these boards as per the market standards ensuring the latest needs of offices and schools. This has earned us immense clientele in all over the globe.
Our goal is to serve educational institutions and offices high quality Writing Board, Magnetic Writing Board and Display Board made in compliance with the rigid industrial standards. Our Round Base Heavy pole stand and Trolley stand are durable and efficient with extraordinary flexible wheels to manage the high and lows of the infrastructure. We have experience and expertise, a perfect combination that enable us to manufacture world class Writing and Display Board as per the requirement of the customers.
Quality Assurance System
Quality is the most compelling factor of our Writing Board, Magnetic Writing Board, White Board, White Writing Board & Display Board with a promise of high efficiency and durability for consistent period. Our range of products such as Glass Marker Board, Projection screen, Stainless steel Dustbin, Welcome board, Flip Chart board and others are widely demanded in the market owing to their superior service for longer period of time. We have used high quality raw material for the development of our products ensuring the latest customer needs. Moreover, we maintain timely delivery and transparent dealings.
Our Manufacturing Capability
We enjoy a strong manufacturing capability that enable us to undertake bulk orders from customers and complete the same within committed time lines. We ensure that each of our products right from writing board to dustbins meet the requirement of offices, educational institutions, etc., and thus we are deeply appreciated. Our proficient team strive to serve the clients with superior range of products and come up with advanced solutions.